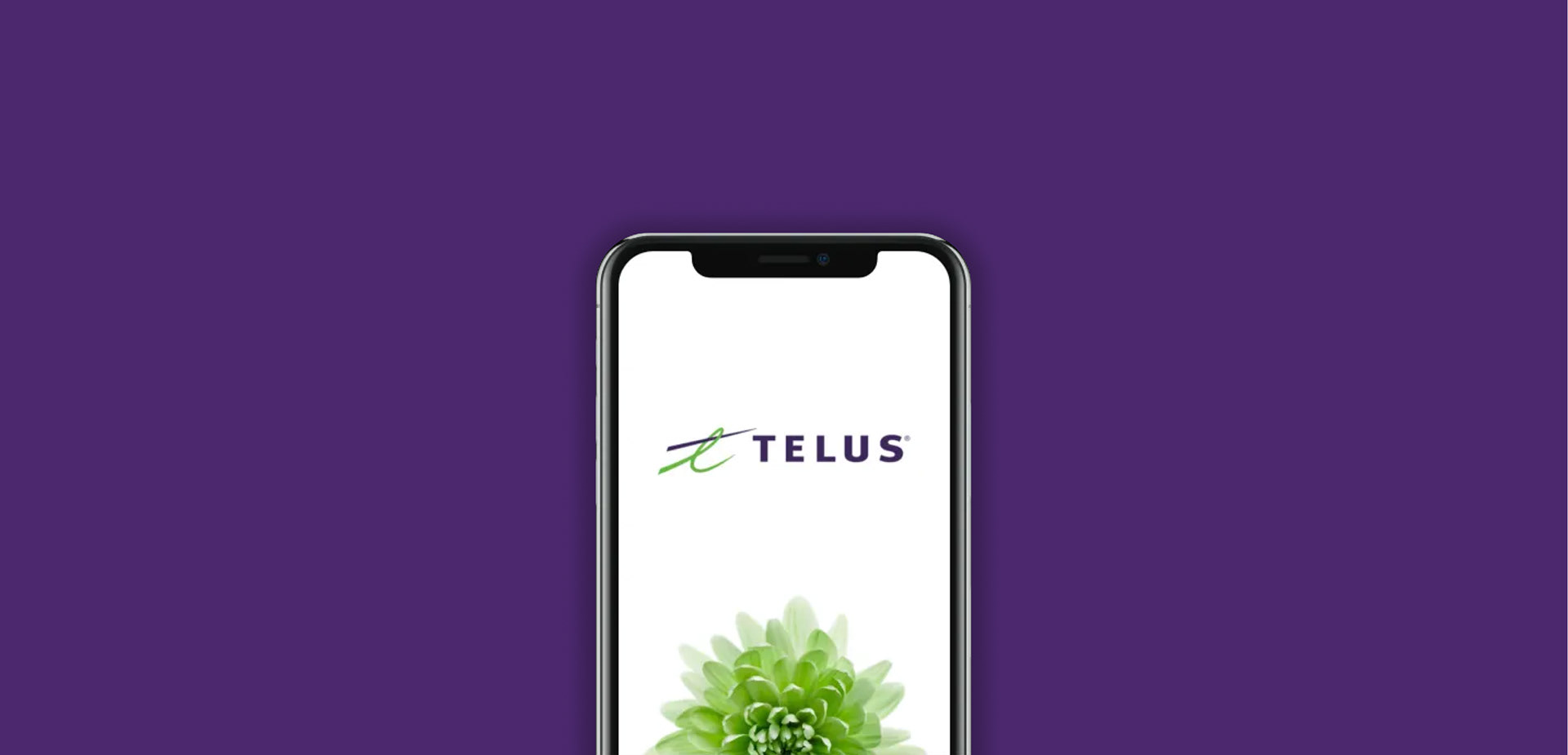 TELUS in a Canadian telecommunications company that provides a vast range of products and services, from internet access and home streaming services, to home security. 
When a customer signs up for Internet or TV streaming through TELUS, they have 2 options:
•  A month-to-month plan, or
•  A 2 year fixed term contract (at a reduced rate).
As the 2 year fixed term comes to an end, customers of that option are prompted to renew their account and move onto a yearly fixed term. 
The month-to-month customers are presented with a discounted offer to move over to a fixed term plan at the end of each year, as well as incrementally throughout their time with TELUS.

The Problem
TELUS call centre agents were inundated with customers calling in to renew their contracts and barter for a better price. This meant that call in wait times were longer, and satisfaction with customer service was down.
Most customers calling to renew were long term loyal customers. They believed that speaking with a call centre agent was the most effective way to get the best possible price whilst renewing, as they had been offered a discount over the phone before.
Customers going straight to the call centre meant there was a missed opportunity for TELUS to cross and up-sell from their growing range of products.
UX Design
UI Design
Wire-framing
Prototyping
Journey Mapping
User Research
User Interviewing
A/B Testing


•  Increase conversion
on 4 key journeys

• 
Reduce call volume

• 
Simplify the renewal process for customers

• 
Increase customer comprehension of offerings, and develop trust that they're getting the best available deal
How might we create a self service renewal flow that removes the reasons for customers to call in and negotiate?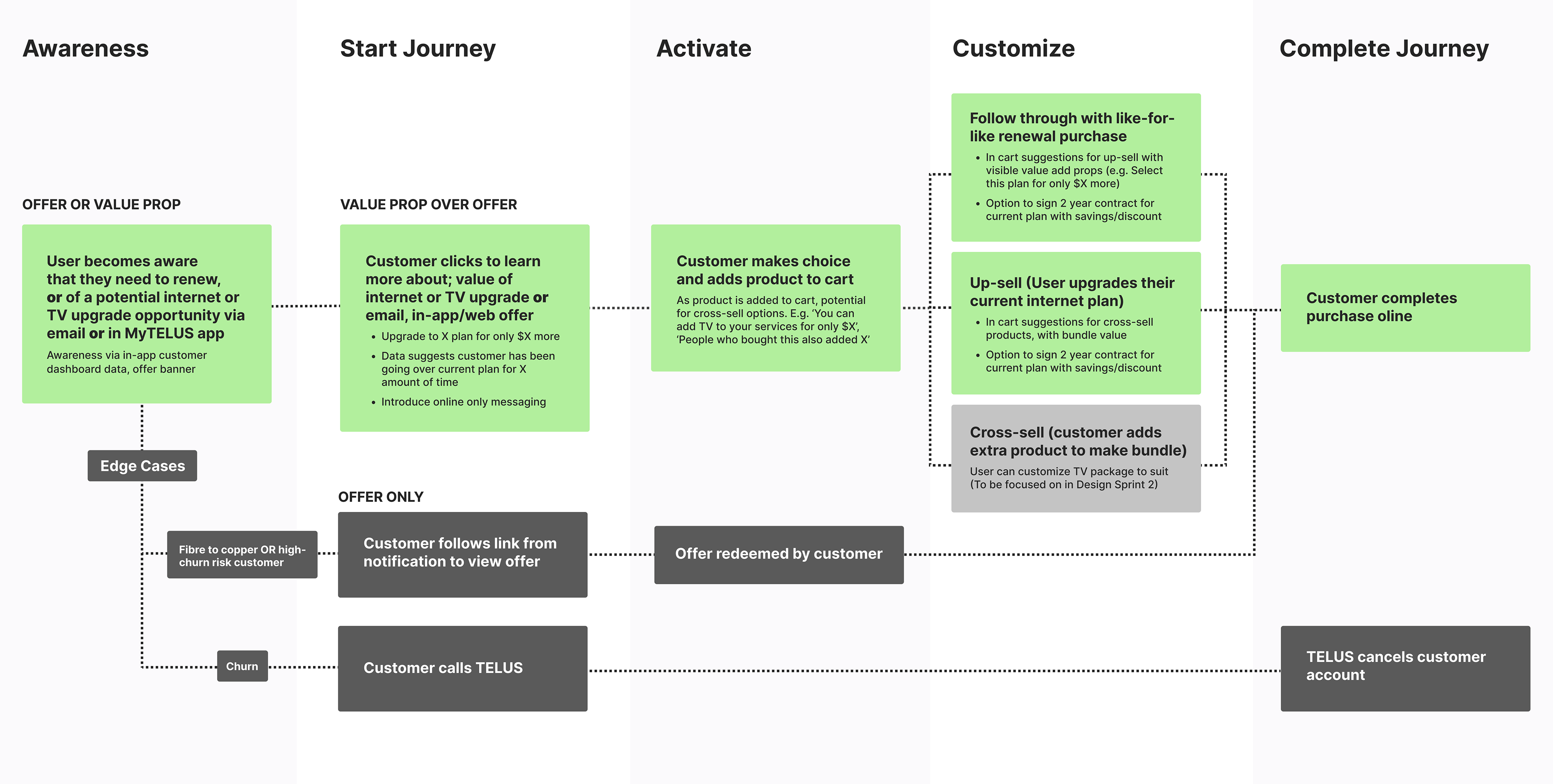 Personalisation
Tap into customer data to create a catered experience for users.
Inform & Empower
Enable the user to feel as though they have all of the relevant information they need in order to make the right choice on their own.
Streamline
Make the process of renewing clean, simple, and snappy. Remove irrelevant distractions.
​​​​​​​
Internal Interviews
The team conducted stakeholder interviews with TELUS product owners for Internet, TV streaming services, and the offers team, to solidify and align on the  goals and expectations for the process.
Survey & Journey Mapping
We conducted 184 person survey to take a deep dive into customer behaviour and expectations. I looked at the current user journey, and then based on stakeholder interviews and survey findings, I developed proposed journey maps for different scenarios.
Prototyping
Based on survey results, we decided on splitting the renewal journey into two parts: Internet only plans, and TV streaming services + Internet plans, with a focus on up-selling and cross-selling.
3 x Design Sprints
Three rounds of research, prototyping, interviews, and design iterations to solidify the most effective approach for the newly developed renewals journey for our user.
Learning & Iterating
Through the interview process, the team was presented with several unexpected customer insights that meant looking at the problem in a whole new light.
Handoff & Monitoring
I worked closely with the digital team to handover the flows, as well as documentation of the findings for the digital and marketing teams. Touching base to gather data and updates at intervals after the project went live.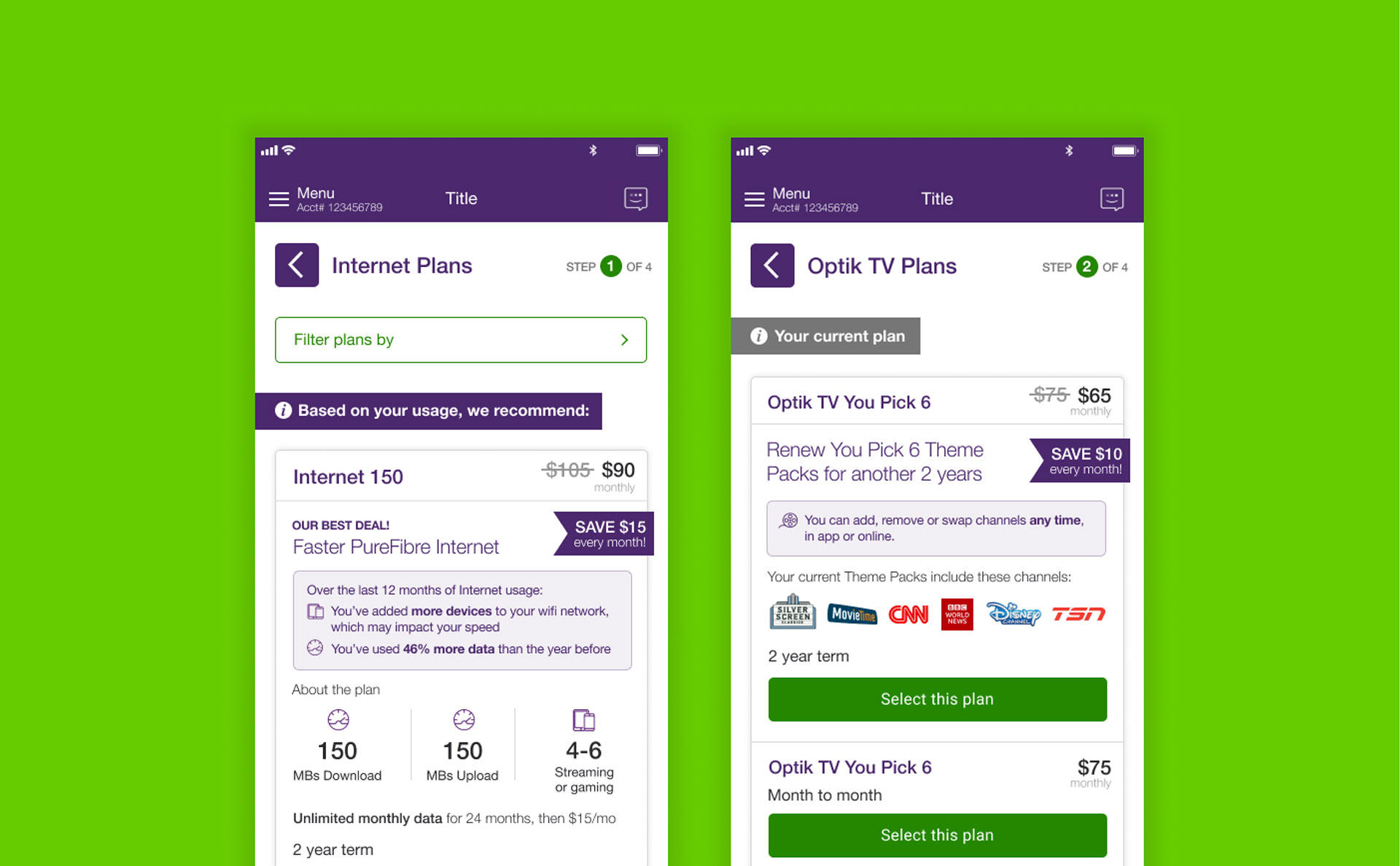 Users weren't likely to make the connection between their own user data presented back to them, and the plans that were then offered, if the information was split up in the flow. They became confused as to why they were seeing certain offers.
We took the customer data and embedded it within the flow when suggesting the up-sell option. This way, customers were able to see the connection between their usage and the recommended plan, approaching the overall experience from a customized perspective.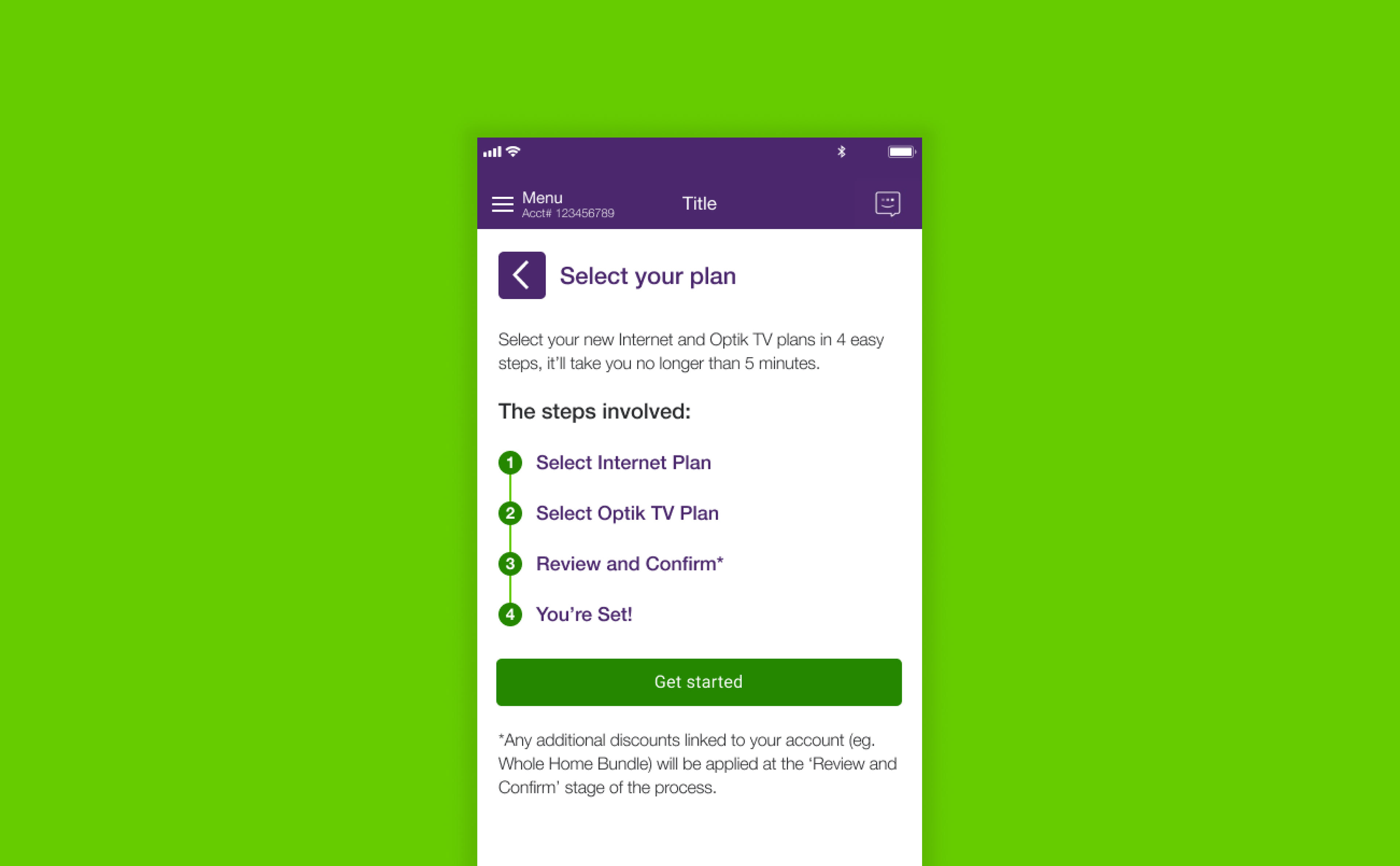 During testing, we found that customers could be thrown off by how quick and easy the flow was, as they were anticipating a much longer process.
Introducing the overview page gave customers peace of mind in knowing what was they were in from from the get go, and in turn the were pleasantly surprised that the process was a lot easier than they initially expected it to be.
•  Call centre volume decreased
•  Bundle sales increased
•  Periphery research insights, and taking many of the stakeholders through their first experience with a human centred design process, prompted the inception of a business shift in how TELUS approached strategic planning and cross departmental collaboration.

To comply with my contractual agreement, I can't share all the details of this project. If you'd like to see the full case study, please get in contact via my email; renee.devalle@gmail.com